Welcome to our Community Fridge blog page. If you scroll down you will find news updates, our 'How to' guide, recipes and press releases. We hope you check back here often. We are really excited about our new project. If you would like receive a notification when the park takes delivery of community food you can SUBSCRIBE HERE
'How to' guide:
Community Fridge recipes for your enjoyment. CLICK IMAGE TO VIEW
EVENT NOTICE
Come down to the Community Fridge at Hardie Park on Tuesday 24th March from 4pm and bring any surplus bird seeds or nuts you may have at home. We are going to make some Bird Food / Feeders and doggie ice-cream from surplus donated food. #nowaste #communityfridge . Our community fridge project meets 4.30pm until 6pm on a Tuesday and a Thursday. Volunteers collect surplus food destined for landfill from local supermarkets in the Hardie Park green van and redirects to the community. Come and see what it's all about. We'd love to have you on board.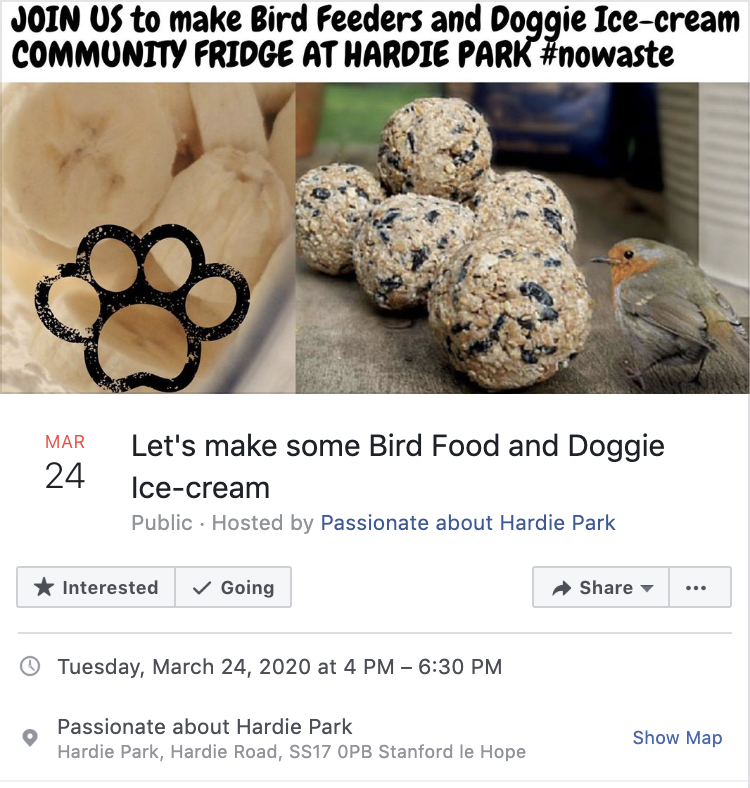 At 4.30pm on Tuesday 3rd March we launched our Community Fridge initiative, designed to reduce wasted food! Anyone is welcome to come and take food, but equally, you are able to bring food that you might otherwise waste! Research shows that 30% of all food purchased is thrown away via household bins! So maybe you have bought too much fresh stuff, you planned to cook and someone took you out for a meal instead, bring it down! Maybe you're going away for a few days and the milk will be out of date on your return, bring it down! Food is donated regularly and posted on our social media channels. The fridge volunteers will be at the park every Tuesday and Thursday from 4.30pm.  They would love to see you for a chat and a cuppa, share food, recipes and help save this food from landfill.
Here is the lovely Project Lead, Miranda, collecting food the morning of the launch.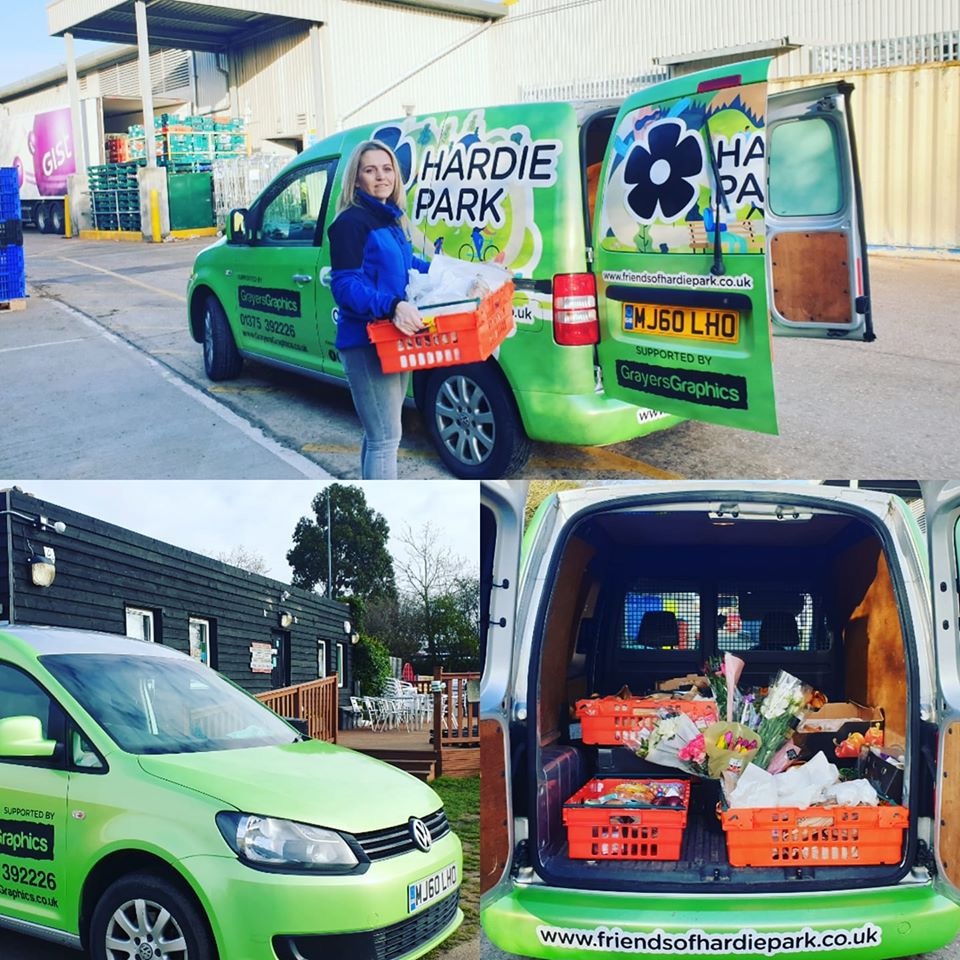 PRESS RELEASE: Park launch first Community Fridge in Thurrock
Miranda Godfrey and Andy Gray looking forward to the launch of the Thurrock Community Fridge
Hardie Park in Stanford-le-Hope are working with a group of passionate volunteers to start the very first Community Fridge in Thurrock. The launch night for the project is Tuesday 3rd March and will be held at the cafe from 4.30pm to 6pm offering an opportunity for the local community to find out more and to welcome new volunteers. The 'Fridge' once established will create an inclusive environment for all to share, donate and reduce food waste in the community. The initiative is being led by Miranda Godfrey, Historic Food Developer & Lecturer and chef Andy Gray in partnership with high street supermarkets, Marks and Spencer and Lidl who currently donate perishable food to the community through the Neighbourly initiative. Miranda said," We are very excited to start this new community project at Hardie Park. We will be meeting for a chat and a cuppa, providing food samples prepared from donated food and sharing cooking tips with everyone. Please come along! It's the first of its kind in Thurrock and we would love for you to embrace the idea and understand what your new community fridge is all about.' The project will run every Tuesday and Thursday from 4.30pm to 6pm and is encouraging those interested in saving food from landfill to get in touch. The project is actively seeking volunteers, the new role will include tasks such as organising food, picking up donations in the park van, promoting the innovative idea and taking part in food hygiene training. If this is something you would like to be involved with, come along on launch night or register interest on the Volunteer link on the Hardie Park website. www.friendsofhardiepark.co.uk/volunteer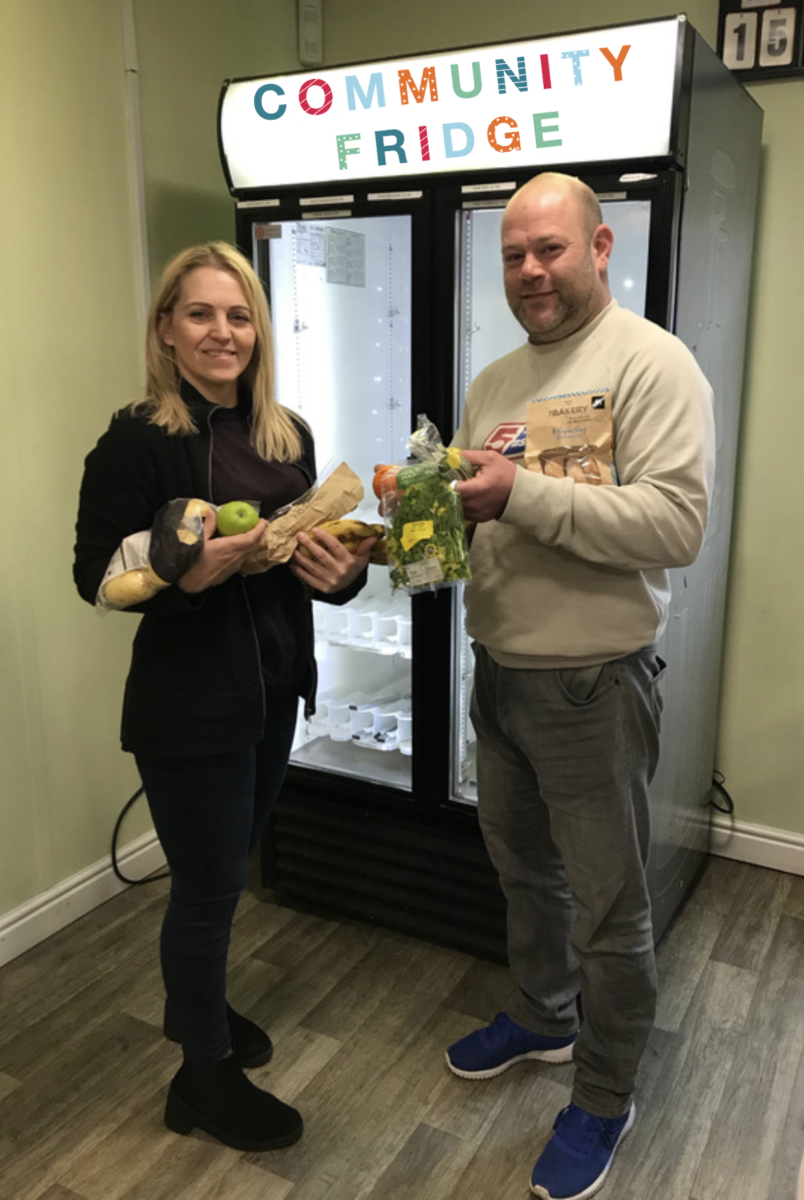 FRIDGE LAUNCH ON TUESDAY 3RD MARCH – All welcome
Come along for an hour on the 3rd March to see what the Community Fridge project is all about. It's not a food bank but a food source for all! Everyone welcome! After the launch night they will then be open every TUESDAY and THURSDAY at the same times moving forward. JOIN US Help create an inclusive environment for all to share, donate and reduce food waste in the community! Be part of the team WE NEED VOLUNTEERS > to organise food > socialise >pick up donations in the van > help us promote > take part in food hygiene training A SIMPLE SOLUTION TO WASTING LESS THROUGH THE SHARING OF GOOD QUALITY FOOD If you can't make it you can register interest to volunteer on our website www.friendsofhardiepark.co.uk about – volunteer tab To read more about the idea of community fridges check out www.hubbub.org.uk or click the video link below. https://youtu.be/QByv0P15ReA