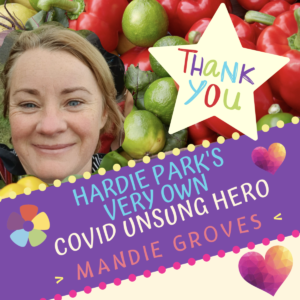 A huge heartfelt thank you went out to MANDIE GROVES this month, our very own 'Hardie Park' COVID UNSUNG HERO.
Mandie's efforts over the last seven months running a community pop-up shop from Scratton Road have been admirable. James and Vicki Brabyn on the team have generously supported the community effort too with hours and hours of volunteer time. The shop has continued to serve the community distributing donated free food to those that need it, and provided a lifeline and much needed point of contact for some through difficult times.
Food has been collected in the Hardie van from M & S, Co-op and Lidl daily by James, allowing redirection to those in need rather than finding its way to landfill. Many visitors to the shop chose to donate with proceeds going to Hardie Park and Mandie also offered help to support others in the wider community raising further funds on behalf of vital local charities.
For us here at Hardie Park, the funds have been invaluable. They have helped plug the gap that has been left by us not being able to open the café or run any of our planned Spring/Summer fundraiser events – we are so grateful for everything that you have done.
Thank you to the community for supporting and using the shop throughout the pandemic, your generosity has been much appreciated.
Matt Adams Chair and Hardie Park Trustees
Contact details: Hardie Park Cafe, Hardie Road, Stanford-le-Hope, Essex. SS17 0PB Phone: Café direct – 07935 868835 Email: info@friendsofhardiepark.co.uk Twitter: www.twitter.com/LoveHardiePark Facebook: www.facebook.com/LoveHardiePark