If you've never heard of Sustrans here's what it's all about….and guess what, we've just been added to their list of favourite cafes!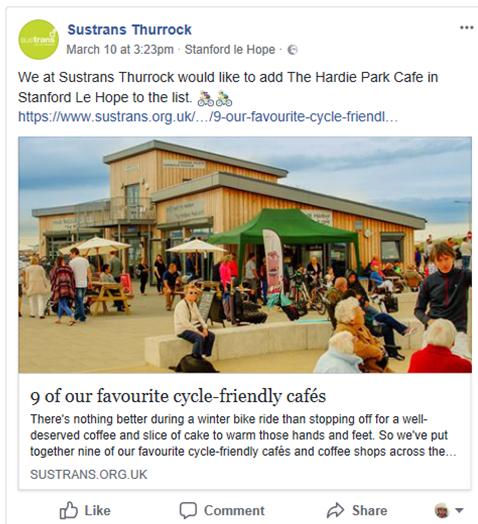 The National Cycle Network is a network of safe, traffic-free paths and quiet on-road cycling and walking routes. Its 14,000 miles criss-cross the country, linking up villages, towns and cities.
Connecting people and places The Network is used by almost five million people a year and runs into town centres, past schools and through stunning countryside from Cornwall to the Shetland Isles.
Despite its name, the Network is popular with walkers, joggers, wheelchair users and horse riders as well as people on bikes.
Over half of the UK population lives within a mile of their nearest route, giving them the choice to walk and ride to work, school, the shops, or just for pleasure.
Thank you Sustrans Thurrock. Looking forward to offering a warm welcome and continued hospitality to the many cyclists who pass through Hardie Park.
Contact details: Hardie Park Café, Hardie Road, Stanford-le-Hope, Essex SS17 0PB Phone: 01375 402182 or 07803 295374 Email: info@friendsofhardiepark.co.uk Twitter: www.twitter.com/LoveHardiePark Facebook: www.facebook.com/LoveHardiePark