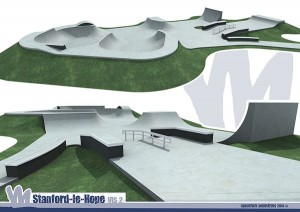 Well, the day has finally arrived that we can announce the news that the NEW SKATEPARK IS GOING AHEAD IN 4 WEEKS!
This project was conceived toward the end of 2011, with original designs and plans beggining in 2012, which just goes to prove, YOU SHOULD NEVER GIVE UP ON YOUR DREAMS!
4 years is in fact a very short time to achieve a skateparke of this scale with most taking nearly double that time to gain funding and planning permission, so we have done very well indeed.
The contractor building the park is Maverick Industries who have recently completed parks in Melton Mowbray, Leicesterhsire and Haverford West in Wales.
We are, of course massively grateful to both Thurrock Council and Veolia North Thames Trust for funding this project and it has come at just the perfect time with the Cafe also due to be opening its door in Feburary.
If you want more information or want to get involved with the projects at Hardie Park, please get in contact with us via the website or Facebook.