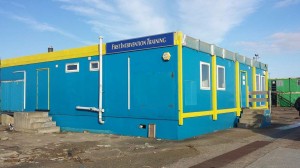 We have submitted plans Thurrock Council to site a building in the park.   This has been part of our long term vision and in a way has happened quicker than we'd hoped!  The reason? Someone has donated a building to us!!
What is the building for?
Our vision for the park is for it to become a place with a hive of activity where the community can come together to do, enjoy and learn.  We have proposed to take over the management (day-to-day running) of the park and recruit teams of volunteers to do this.  In doing so, we can create a place for people to get together as well as all learning some new skills along the way and of course, this includes young people too.
So the idea of a building is to:
Provide some toilets in the Cafe during the daytime
Enable us to run a small social enterprise (a Cafe) staffed with volunteers and trainees to gain valuable working skills.
To run a bike maintenance workshop – associated with the skatepark – again, to teach people valuable skills but also to make a focus of the ever-growing wheeled sports which so many of our young people locally enjoy (and I have to say are pretty amazing at!)
Provide a training room and a meeting room so that we can offer formal training and counselling/mentoring/coaching support to the people engaged with our programmes.
To provide a visible base for Friends of Hardie Park.
Where will the building be?
The proposed location is alongside the path in the narrowing strip of land next to Hardie Hall.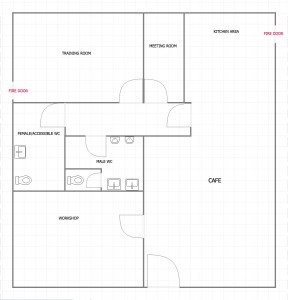 Will the building be blue and yellow?!!!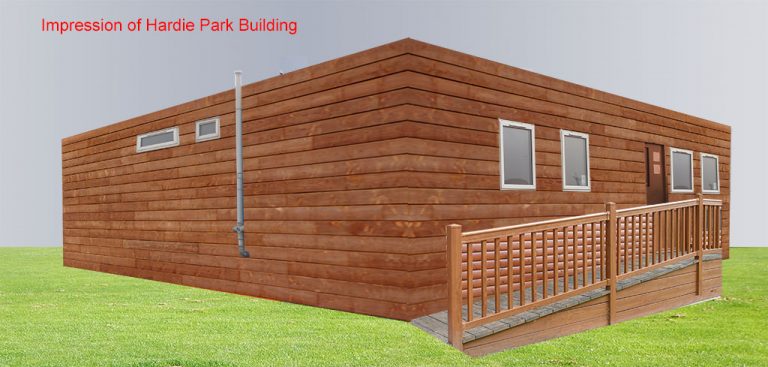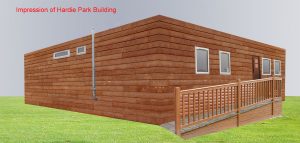 No! Here is more of an impression of what it will look like. There is also a sketched internal plan.
So the building is really free?
Well…not entirely, it is actually costing around £6,000 to transport the building, which is made up of 4 modular units.  Even so we know that we are very lucky to have this opportunity.
What about the Skatepark?
The skatepark is also on the verge of "happening" we are pooling funding streams together and have applications in with many funders and organisations.  The Skatepark is key to the success of our building project, because it will help us engage with young people and alos massively increase visitor numbers.
What next?
We really still have a lot to do and this is where we need your help.  If you can do one, two or all of the following things to support us in this project and to make our vision a reality then please do it and share it with your friends.
Sign our "Support our project" page, this will keep you in touch with developments. (Do this even if you have registered before on our site – you will only be contacted once!)
Like our Facebook page
Pledge some financial support here. [link to come]
Email us and give us your thoughts or let us know how you might like to get more involved.
Share this post via Social Media to your friends.
For any more questions or concerns, please email us and we'll be happy to respond.