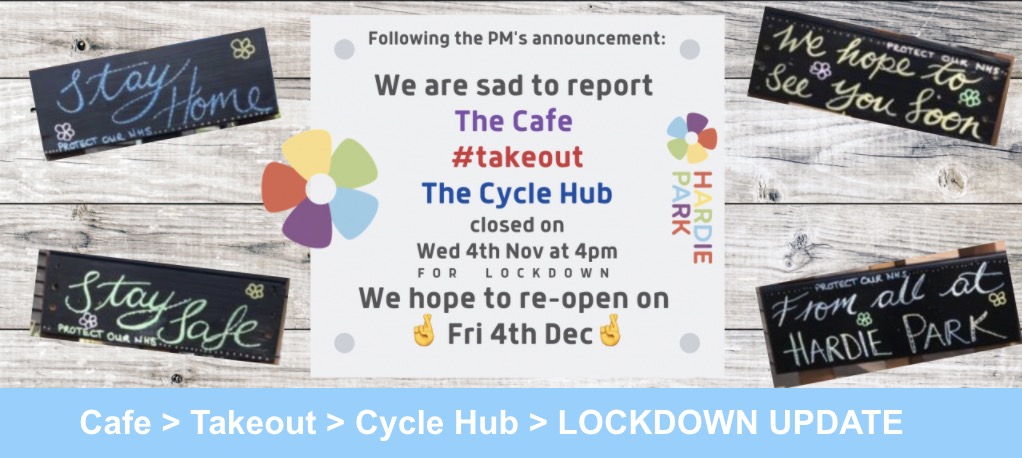 Click here for our November 2020 Update
Further to the governments recent announcement our cafe is now closed and the trustees took the decision to extend that to the takeout service and Hardie Cycle Hub over the lockdown period. We hope to re-open on Friday 4th December.
Please follow us on social media, we plan to keep in touch with our followers and community via some zoom chats/sessions. Details of when this will happen will be posted on our page soon. If you would like to participate but do not use Facebook please email communications@friendsofhardiepark.co.uk for these updates.
It's at times like this we need each other. Please check on your neighbours, offer to pick up groceries if you can or call / knock on the door for a socially distanced chat.
The pop-up shop run by volunteers in Scratton Road will continue to pick up surplus supermarket food from M&S and LIdl to re-direct to the community. If you are in need or know somebody who is then please let them know or stop by on their behalf when passing. You are welcome to take if you need, donate if you wish.
Isolation takes its toll on everyone in one way or another. PLEASE don't suffer in silence.
Communities work best when they are working together.
Stay safe everyone,
The Trustees, Staff Team and Volunteers of Hardie Park
Contact details: Hardie Park Cafe, Hardie Road, Stanford-le-Hope, Essex. SS17 0PB Phone: Café direct – 07935 868835 Email: info@friendsofhardiepark.co.uk Twitter: www.twitter.com/LoveHardiePark Facebook: www.facebook.com/LoveHardiePark